Yes, once again it's that wonderful Saint Patrick's Holiday- or better known to me as Mia Hamm's Birthday!!! She will be turning 36 (she was born March 17th, 1972 in Selma, Alabama- yes I've read her autobiography WAY too many times). So Happy Birthday Mia!
Oh and in case i didn't fill anyone in-- I got accepted to UNLV, CSU Long Beach, and CSU Northridge (where I def don't wanna go due to the live at home factor) and I withdrew my application from CSU Sacramento (sorry to Ashlin and Michelle, I was forced by my mother to do so). So I turned down UNLV on Friday due to the fact that it'll be over twice as much as CSU Long Beach and it's a lot further from home. It was REALLY tough to turn down the potential of being Dr. Melanie Bean, but I felt like Long Beach was a much better choice--- Vegas doesn't have a beach and we all know where I would end up with my blackjack addiction. Plus, if I really want it- I'll go on to get my doctorate after I finish my Masters. CSULB is halfway between my brother in San Diego and my sister and parents in Newbury Park, I'll be living near some of my bestest friends-- except sorry to Sarah who is stuck at BYU for a long time to come-- it's half the price of UNLV, and I get to live in Huntington Beach! Like Kari says, I'll finally have made it back to where I've belonged all along. Nothing puts me in a better mood than sun and surf, so eternal happiness here I come! Except maybe while I'm locked up in the cadaver lab. Eh well.
So here's to Long Beach! Go Beach!
And last, my tribute to Mia Hamm and her Dodgers husband Nomar and his RVCA shirt.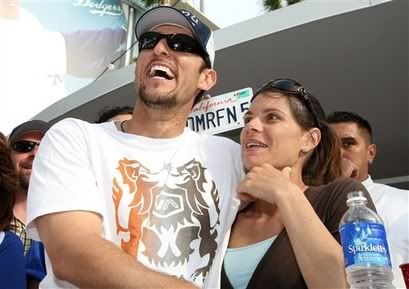 Oh, and Happy St Patrick's Day!!